Two
experts at ActionHub
tested six cellphone compass apps to see how well they did. Three were for iPhone, and three for Android. Here's what their article said:
We used six apps to see how well they worked. We compared the accuracy of these apps to three different bearings, each determined and checked three times using a magnetic compass. We also evaluated user interface convenience and noted other functions the apps make available. It is important to note that most apps had a setting for calibrating the compass. Any compass app you chose for your phone should have this capability.
Other observations include whether ads are displayed. Only two apps could be used when holding the phone in a vertical position; all others required the phone to be held flat/horizontally.
It should be stated that there are often issues with apps mining data from phones. There are certainly many agreements and notifications about allowing the app to access different segments of the phone's operating system, so it is entirely up to you as the consumer to decide the pros and cons of installing an app on your device.
iPhone apps
The following three apps were installed from the Apple App Store and evaluated on an iPhone. All stars-ratings were gathered from the App Store users who posted their feedback.
1. Commander Compass Go
Earning 4.6 stars in 4,460 ratings, Commander Compass Go (CCG) is an offline GPS app that offers a fairly, hi-tech compass and in-app video tutorials. It does not display advertisements during use. The user will find the detailed compass rose to be large and easy to read. In addition, the screen continuously displays the compass bearing along with elevation, latitude-longitude, USNG coordinates, calendar date, and current time. During app use, holding the iPhone vertically or parallel to the ground has no impact on compass consistency. When compared with readings on the baseplate compass, CCG generally presents a 2-3-degree difference. Other magnetic fields do not appear to impact this compass app, and it offers a litany of additional features/settings, including: different map styles, waypoint tracker, distance to multiple targets, coordinate converter, and the ability to copy/paste/share coordinates and map links. There is a CCG Pro upgrade for a minimal cost.
2. iPhone Compass
This app rated 4 stars by 1,897 users in the App Store. The standard iPhone Compass appears as a pre-loaded utilities app on the iPhone. It does not present pop-up ads. This resource offers a sizeable, simple compass view. Below the compass itself, the app uses large characters to display a numeric heading and general direction letters. The user may opt to see the latitude and longitude of his/her current location and also find elevation above sea level. Tapping the screen locks in the current heading and shows a red band as a method of staying on course. There are no additional features with this app. Holding the iPhone vertically and horizontally generates a 3- to 5-degree difference, with the horizontal reading consistently being less than the vertical one. When compared to the base plate compass, iPhone Compass presented a 7-degree difference. Other magnetic fields do influence this app.
3. GPS Compass
In the Apple App Store, 343 users rated GPS Compass as earning 3.8 stars. This product displays ads at the bottom of the screen, and other magnetic fields do impact accuracy. Compared to the baseplate compass, the app consistently agrees with the reading. GPS Compass' display presents in landscape view only and, even when the iPhone is rotated, does not shift to portrait. The compass itself appears at the top of the display and is linear rather than a rose. Numbers and general direction indicators are easy to see, and the bearing is consistent in both vertical and horizontal phone positions. Users see current altitude, latitude and longitude indication, and a horizon finder. In addition, there is a button for photos and a "start tracking" feature to record a track. There is an option to save and share the track. Finally, the app offers the choice of a gray grid screen or a map underlay that requires a "Simple" or "Satellite" choice.
---------------------------------------------------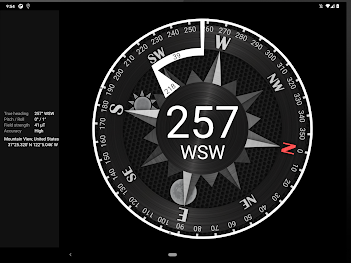 Android apps
The following three apps were installed from the Google Play store and evaluated on an Android phone. None of these apps worked with the phone in a vertical alignment. To function effectively, all these apps required the phone to be held flat, parallel to the ground.
1. Just a Compass
This app is rated 4.7 by 37,000 users on the play store. This app does not display any ads during use. For user interface, the numbers are relatively easy to read, as well as showing the cardinal directions. The app consistently displays a reading that is 7 to 12 degrees less than the actual compass bearing. Other functions are available as well, including sunrise/sunset times, coordinates and address of location and altitude. Interestingly enough, other magnetic fields do not seem to affect the readings on this app.
2. Simple Compass
This app is rated 4.9 by 280 users on the play store. This app displays ads during use. The numbers are difficult to read on the display, except for the readout of the direction the phone is pointed. There are no additional extra features included with this app. The bearings are fairly accurate, with a variation of 1 to 4 degrees from the plotted compass bearings. This, like most compass apps, is affected by other magnetic fields if close enough to the phone.
3. Compass Steel
This app is rated 4.5 by 19,000 users on the play store, and it does not display any ads during use. The display is easy to read. In addition to the normal heading display, the app has an interesting display design with a bar extending to either side of north to show how many degrees the user is facing from north. Another helpful feature is the calibration quality display. The app was fairly good with accuracy, showing bearings that were only 2 to 3 degrees different than the course bearings.
From the trials in this article, one of the reviews recommends Compass Steel app for Android users, and the other recommends Commander Compass Go for iPhones.